Notes of guest speaker events at AWAC
by Jeremy Lewis, PhD

Speeches, 2017-18
Archive Home | Past events and notes | Documents index | Facebook page and albums
---
CONTENTS
Tuesday, September 12, 2017. Dr. Mark Conversino for Amb. Jack Matlock PhD, "Russia, Then and Now"

Tuesday, October 17, 2017. Professor Loch Johnson, "American Foreign Policy in a World Both Uncertain and Dangerous"

THURSDAY, November 16, 2017. Professor Jorge Dominquez, "Cuba: Yesterday, Today and Tomorrow"

Tuesday 23 January 2018: Ambassador Jack Matlock, PhD, "Russia, Then and Now"

Tuesday, February 13, 2018. Professor Gabriel Aguilera, Air War College, "Venezuela"

Wednesday, April 11, 2018. General Michael Hayden, USAF (ret), "Global Security"

Tuesday, May 8, 2018. Air War College Professors, Regional Reports

Special Programs
---



NOTES ON SPEAKERS, 2017-2018


All programs are from 5:30 - 7:30 pm, Gold Room, 2nd Floor, Whitley Hall, Troy University Montgomery, 231 Montgomery St. Montgomery, AL

Tuesday, September 12, 2017: Dr. Mark Conversino, "Russia, Then and Now"





Dr. Mark J. Conversino is Deputy Commandant and Professor of Strategy and Security Studies at the School of Advanced Air and Space Studies (SAASS), Air University (AU), Maxwell Air Force Base (AFB), Alabama. As Professor, he is responsible for creating warrior-scholars of airpower. Dr. Conversino joined the faculty of the Air War College (AWC) as a civilian following his retirement from the Air Force and subsequently joined the faculty of SAASS in 2015. He specializes in military and airpower history and theory, Russian history and the politics of the former Soviet Union. His book is Fighting With the Soviets: The Failure of Operation FRANTIC, 1944 -1945, Lawrence, KS: University Press of Kansas, 1997.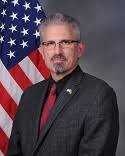 We rescheduled to 23 Jan. 2018 Jack Matlock, Ambassador in Residence at Troy University, former Ambassador to Czechoslovakia and the USSR, and former Director for European and Soviet Affairs on the National Security Council.

Mark Conversino, "Russia Then and Now." PhD in political history, has book on Operation Frantic.
Last there in 2014, fewer invitations now from Russian government for US military, and during Ukraine crisis Conversino had to leave for Estonia. Questioned at border. Russian thinking in big picture.

Allies in Finland and Baltics are worried by military and propaganda.
Zarpad 2017 exercises large and have unsettled the Baltic allies.

Russians are both post-colonial and post-imperial, post 1991.

As always, post-colonial people have to redefine themselves – and current regime has a blood-based nationality of Russky. Cannot become Russky.
Empire is gone, and state boundaries are now national boundaries. After 300-400 years of empire building, expanding 50 sq miles daily for 300 years – gone suddenly from August to December in fall of Empire.
Unfair verdict of history, in view of current leaders.

US loses sight of non-transactional relationship over Syria and other issues.
Obama called them a middling regional power -- but they do not see it that way.

They see the world completely differently.

25 M ethnic Russians were left out in the new states, many in NATO allies today. Putin, tens of millions of our co-citizens and co-patriots were in other countries.
Our values are alien and policy of Putin government is to defend Russians no matter where they live.
Hybrid war with little green men is a concept of war begun by ethnic Russians and merely supported by their government.
Ukraine suffered millions of losses in 1930s and WW2.
Russians often say they did not lose the cold war – USSR lost but Russia was only created in 1991. Common to say, 'No NATO troops were in Red Square but you treated us like you won.'

Regime now wants to dial back the clock.

Russians get teary eyed about Ukraine, the brother Slavic state, looking west to Europe. They do not feel that about Turkmenistan, but Ukraine is special. Putin concerned that another collapse might happen if Ukraine did not crack down.
They chose hybrid war or grey zone war, appearing not to be a war, use deception and divide western allies. Told Ukrainians the fascist Nazi thugs from Kiev would come to get you; marines seized Crimea without uniforms, executed well. Putin told other world leaders they were not his guys.

[Russian Media, Propaganda, and Public Opinion]
Russians get their news mostly from government-controlled news channels (except Moscow Times). Slick sources, unlike cold war propaganda, fed into US channels. There is no check and balance system in Russia, so media are concerned to get the story out there first, and not bother with retractions. Even WaPo and NYT until recently had Russia feed.
RT has graduates of US journalism schools, real accents – stories with kernel of truth surrounded by fake news. Editor in chief of RT was a US editor. RT YouTube channel has top hit rate and in UK was rated by consumers above BBC! Using American journalists is more persuasive. Massive subsidy [$400 M?] from Russian government.
Sputnik is ugly little brother – also heavily subsidized by govt.
Bloggers working with multiple accounts, tweeting multiple times a day. Swarm journalists and comment sites, paid as Russian trolls. Recent Defense awards for Russian media, info to prepare battlefield is their doctrine.
Blocking broadcasts in West would be a violation of US First amendment and of EU rules. Russian media planted story of Syrians raping a girl in Germany, and Germany had protests from neo Nazis before they could react. Difficulty is to educate population to be less vulnerable to foreign propaganda.
Emails 2016 used 'So whatism?' Drew parallels with Democrats interference in own elections. (E.g., Thugs killed 4 M in Ukraine under Stalin – so what about lunch counter segregation revealed in US media?)

[Countermeasures ineffective?]
Baltic states now have US tripwire force, like Korean border and Fulda Gap in cold war. Planes are immediately tracked by advanced SAMs. Estonia and Latvia have large ethnic Russians, getting most news from Russia and viewing NATO as the danger, not Russia. Now NATO is wargaming a major war with Russia in Eastern Europe, and losing. Estonians hope we will honor treaty and defend them. Russia can change facts on ground while we are extremely confused.
Question Time
Korean missiles parts could have come from either Russia or Ukraine, similar parts. Russia trying to keep NK in play.
Why not just ignore NK? Chinese seem to have assured NK would only defend them if not the aggressor. Conventional deterrence is uncertain in these circumstances.
Russian economy? Close to a petro state, Russian budget has fallen by half, has affected a military rearmament plan which has greatly upgraded equipment till now. Putin has revamped the tax code of a flatter 13% (not that all pay it) and before crisis built up cash reserves before Ukrainian war and sanctions. Min Finance says may run out of reserves by new election 2018. Putin created first ever Russian middle class, wealth spreading … so mass demonstrations against corruption shook them. Message is 'Don't look at your frig, look at your TV, and support the government.' GDP now may be half of Germany and about Mexico's – prior to that, Russians had in real terms, the 7th largest GDP.
Mafia now has gone if it opposed regime, but if they cooperate, they flourish. Will not tolerate wild west bombings and assassinations of Yeltsin era.
Likelihood of Ukraine joining NATO? Not good though do already have visa free travel with EU. War in Donbas has made NATO membership unlikely.
Lithuania has fewer ethnic Russians but Stalin removed or slaughtered local ethnicities. Unlike Ukraine, Estonia and Latvia did not simply give citizenship to those living inside.
Perhaps 100K Russians are stateless. In Central Asia, high ranking officers all spoke Russian and officials often have Russian names.
Government gives $10K per new child, sponsors Conception Day, and benefits. Growth in immigration of Asians (satellite states) but Russians have fire hydrant shaped demographics, population has declined badly and expected to continue – a problem for holding territory in Asia in future.
Putin after Crimea made promiscuous statements about nuclear weapons (doctrine of being prepared to go nuclear, to obtain other gains – but they know they have to be careful not to overplay hand).
Sowalki gap? Small land corridor between Belarus, Poland and Kaliningrad. If Russian units drive across that gap, sovereign Russian territory with massive forces on land and air, cutting off Baltics. We have only 7 fighters plus some from Belgians, while Russians have 400 planes close enough. When our planes take off, they are immediately locked onto by advanced S400 SAMS.
More Russian troops in Kaliningrad than in all of Baltic states combined. Baltics have been warning us for years they needed to be in NATO. Russians could take the territory before US could react.
---

Tuesday, October 17, 2017: Professor Loch Johnson, "American Foreign Policy in a World Both Uncertain and Dangerous"

Dr. Loch Johnson, Regents Professor, University of Georgia, is a distinguished academic, the author of 30 books and over 200 articles on US Foreign Policy and Intelligence. A former Congressional staffer, he has been a visiting scholar at Yale and Oxford. See program announcement and biography [PDF].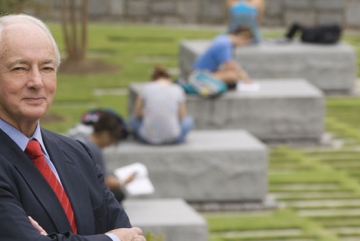 Loch Kingsford Johnson is the former Secretary of the APSA, President of the ISA, and a staff member of the US Senate Committees on Intelligence, and Foreign Relations.


How can America relate to the rest of the world?


In the words of the Murphy Commission: must deal with the world that we find.

Embrace 4 institutional changes and 5 maxims.


Threat assessment exercise every January, among principals in cabinet room. Prioritize threats. Classified but can easily guess terrorist groups will be on list. Director Clapper argues greatest danger is cyberwarfare, and now several investigations.
NK also in tier 1A threats, which drives resources used. Taliban also 1A and 16th year makes this the longest war ever for US. Breakout of other nations, NK, Iran a concern. Russia and China obviously have nuclear power so in 1A. Tier 1B includes ballistic missile race, plus chemical and biological weapons.
Tiers 2-4 include Venezuela, human rights, refugees.
VP Al Gore used to argue in these meetings for environmental threats but these often are not accorded the weighting they should.
Admonitions from fear-mongers, leading to threat inflation. Russell Brands argues Russian and Chinese expansionism needs great attention; Elliot argues we are unready to fight.
Curtis LeMay called for immediate strikes on Cuba in 1962 but JFK was wiley enough to wait for information. Later we learned Russians had local missiles ready while the nuclear missiles would not be ready for 2 weeks.
In Vietnam the domino theory won out over the counsels that Ho Chi Minh -- whose hero was George Washington -- might be able to stand up to Chinese communism.
Brits spend on defense only $3.1 Bn, a fraction of what we spend.


Basic defects in the way we conduct foreign policy.
Liabilities:
Weak intelligence apparatus.

Gap between decision makers and information. Too many self-licking ice creams, read only by author. More 'forward observers' needed in policy departments such as Treasury and Commerce. EPA international division needed to work with CIA environmental center, and now does when not too busy. Needs closer communication. Flood of fire hose information incoming. Must become more sophisticated to filter signals from noise.
CIA now working with 'silicon valley' (software executives) to improve information filtering. Integration of 16 agencies is needed, (his HS classmate) Clapper, very concerned with how to get out of $80 Bn budget, despite stove piping. President needs holistic view from HUMINT and Satellites and other methods. We created the ODNI -- but without budget and personnel authority -- so directors are merely gorillas in stovepipes.


Emphasized military approach over diplomatic.

Sometimes (Hitler, 9/11) military is essential but how much is enough?
In cold war spent $525 B/yr on defense, now $600 in real terms. Military to state spending is 19:1. Present administration plans to increase military budget while cutting peacekeeping and food aid. 20/22 positions at State remain unfilled and 1/3 ambassadors not named. Some are questionable such as Gingrich's wife as ambassador to Vatican.
Increases often justified by adversaries. But China has only one carrier, zero cruisers, 19 destroyers, 260 nukes. Albright philosophy that we have such a good military we should use it – but that is strange. Better to blow up a few things but do more talking softly. Sec. Tillerson does not even bother his counterparts around world.
Odd to give Nobel prize to group recently that opposes nuclear weapons (safer with them in cold war) – but still, how much is enough?
Administration is staffed with generals, balance is toward Pentagon, even though President and Secretary of State are inexperienced in foreign policy. Tillerson wanted Elliot Abrams (from Iran-contra) a poor choice -- but he was excluded anyway because he had criticized Trump in campaign. Tillerson has yet to give a single foreign policy speech.
After 16 years in Afghanistan -- the graveyard of Alexander the Great, Russian and English Empires –we are planning increase in troops.
On the verge of a global conflict between Shia and Sunni Muslims – we should not get in the middle, as may be happening.

Too infatuated with CIA covert action


– killing machine rather than intel gathering machine.
Ike's military-industrial complex is now joined by intelligence-industrial complex.
Should we rely on CIA for aggressive activities? Many errors in 1950s. Mike Spann (of Alabama) was the first casualty of a good unconventional war.
Drones are still inaccurate and causing collateral damage. Still lack of coordination between CIA and USAF drones, and 2 attorneys in DOJ still call the targets. Perhaps we need a court like FISA to oversee them.

Too infatuated with executive power.

Moving towards an imperial presidency, contrary to the Founders' thrust in forming government. Drone strikes in Yemen were not authorized by the Authorization of the Use of Force in Afghanistan. What is their legality?

Legislative leaders need to step up and take responsibility.

US needs to listen better to other nations, not simply call them to tell them what the US is going to do.
Foreign aid: contribution is 0.06% of US GDP on foreign civil aid, well below 0.7% standard. Chinese have built railway and harbor in Pakistan for example.
Set good example for world (Fulbright principle) and we are widely admired for free press and open elections – if not for opiates and mass murders.
Cost of wars in Afghanistan and Iraq (2.5 T in Afghan alone) – better spent on domestic infrastructure.

Build better consensus before action.


Should have listened to German and French allies and taken time to build information on Iraq. Should have waited on Viet Nam [in 1950s] to find out how VN was going to develop.
America already great again. But can do better with governing.



Question Time

Kurds? Need leadership to regard Kurds for assisting us and they have a claim to a nation, but resisted by Turks and others.

North Korea – did patience fail there, as with Munich 1938? NK different, should have opposed Hitler earlier but NK war would go nuclear almost immediately. Might try basketball diplomacy and rely on deterrence and Kim's rationality.

Iran? Many Iranians, below the mullahs, are western friendly, so possible to deal with them. True that they can develop nukes on military bases that are exempt from inspections – but we have saturation intel coverage HUMINT, SIGINT and satellites, and did covert cyber action with Israelis. Iranians may eventually overthrow the mullahs to escape from medieval life. Iran is twice the size of Iraq. Better to engage them with rest of world.

Basis for negotiation is military power – or diplomacy? Trouble with negotiation from strength is the security dilemma problem – negotiation from parity is easier. But cannot remove state department – need to balance military with diplomacy. Reagan realized that his military buildup was going to bankrupt both US and USSR.

Nuclear triad to be reduced? Bomber leg can be removed and land based missiles too vulnerable, should rely on naval missiles, which although imperfect in communications have accurate power. Can dampen down rhetoric of foreign policy and talk down NK with Chinese – worth trying.

Chinese and Cubans have sent engineers and doctors and nurses abroad, and US should do such services to balance against military power.

Threats coming from NGOs now rather than states? Yes, and many young males are attracted by belonging rather than ideology. But we need joint ventures in factories for Pakistan, and create jobs for youth. States are still the atom of politics – but many drawn to terrorist groups by frustrations with jobs and women.

Not America First but a community of civilized nations. Porter Goss said that since WMD had been wrong, he would not trust working with foreign countries – but that lasted only about 3 days, because soon had to work with multiple countries.



---



THURSDAY, November 16, 2017: Professor Jorge Dominquez, "Cuba: Yesterday, Today and Tomorrow"

Professor Dominquez is a distinguished Harvard Professor, Chair of the Harvard Academy for International and Area Studies and former Vice Provost for International Affairs. The author of numerous books and articles on Latin American Politics, he is a specialist on Cuba.




An internationally known expert on Latin American politics, Dominquez is the Antonio Madero Professor for the Study of Mexico and chair of the Harvard Academy for International and Area Studies at Harvard university. A noted scholar, he is the author or editor of various books, among them Challenges of Party-Building in Latin America; Debating U.S.-Cuban Relations: How Should We Now Play Ball?, 2nd ed.; Contemporary U.S.-Latin American Relations: Cooperation or Conflict in the 21st Century?, 2nd ed.; Mexico's Evolving Democracy: A Comparative Study of the 2012 Elections; Routledge Handbook of Latin America in the World; Constructing Democratic Governance in Latin America,4th ed.; Cuban Economic and Social Development: Policy Reforms and Challenges in the 21st Century; The United States and Mexico: Between Partnership and Conflict, 2nd ed.; Technopols: Freeing Politics and Markets in Latin America in the 1990s, and many other books and articles on domestic and international politics in Latin America and the Caribbean.

Professor Dominquez served as Harvard University's vice provost for international affairs (2006-2015) and as director of Harvard's Weatherhead Center for International Affairs (1995-2006). A past president of the Latin American Studies Association and a past board chair of the Latin American Scholarship Program of American Universities, he currently serves on the editorial boards of Political Science Quarterly, Foreign Affairs Latinoamérica, Cuban Studies, Foro internacional, and Journal of Cold War Studies. He was series editor for the Peabody Award-winning Public Broadcasting System television series Crisis in Central America. He is a founding member of the Inter-American Dialogue and Adviser to the Club de Madrid. His current research focuses on the international relations and domestic politics of Latin American countries.



Prepared remarks


Internal events in Cuba
Demography below population replacement rate since 1978, fewer kids born, 11.2 M population now and already declining even without emigration. Life expectancy similar to USA and W Europe, with similar causes of death (cancers and heart disease).
Why has Cuba's government lasted so long? Educate girls and they will take charge of their lives, 85% graduate HS, reduces fertility rate. Consequences are closing primary schools and opening assisted living for elderly. Less work for pediatrics and more for geriatrics. Cuba has excellent demographers but Fidel refused to pay attention.
Median age is 45, 1 in 5 over 60, unprepared to care for elderly.
Unfunded pension liability is colossal. Public opinion poll of public transport and of public services – only 1/6 approved, state was doing badly, except education and health care. Believed that grandparents and kids were well served.
Education
PISA test showed Cubans up with East Asians, a full standard deviation ahead of Latin America – though less so now. Under Raoul for ten years [9 since 2008], number of university students has dropped 70%, for lack of budget. Ordinary people lack faith in future because of poor economic performance.
Poverty
Officially there is no poverty, but U of Havana colleagues developed "population at risk" [poverty] category with four criteria

Income $1 below per week, compared to World Bank $2 per DAY.
You do not grow your own food (not even garden at back of house).
You do not have your midday meal at government cafeteria.
You do not receive tips or remittances in hard currency.

1/5 Cubans are found at risk.
Economic growth
Cuba does not compute GDP by global standard method – they use own method which is unpublished. Even by official standard, growth has been zero to 2%, except one year at 4% and 2016 actually fell. Reason is end of Soviet support for Cuba, subsidizing sugar economy. Sugar economy went bankrupt and only produces 1/5M tons/year and ¾ mills have been shuttered or are museums. Cuba does not feed itself, imports significant quantities, in part from US (thanks to Bush exception to embargo).
Cuban manufacturing is a tribute to 1950s tech, supply of goods is extremely limited. Very slowly adopted measures for service sector as core of economy, despite hindrance of government running it.
Economic Reforms
1. Export of professional services to Venzuela and others, but under Chavez Venezuela 's barter of petroleum for doctors, bodyguards and other professionals. Service exports well exceed value of the petroleum. However, with decline of markets Cuba has lost some of income. Median physician expatriate pays effective tax rate of 94%, so doctor earns very little. Most Cuban doctors are women, and they will soon learn they could earn vastly more abroad, hence their emigration rate.
2. Welcome international tourists to Cuba, a good move economically, and that part of Cuban deal will likely continue under Trump administration. In response to sonic attacks on two dozen diplomatic personnel, US withdrew all but one diplomat and required Cuba to do likewise in DC. Cubas' net tourism visits will have increased again. Canada is top origin of tourists.
3. Remittances hard to estimate but sociologists and anthropologists try, and US government estimates higher at $2.5 BN. Median salary of a Cuban is $1 per day, so remittances important.
4. Authorized 'self-employment' (with remittance money often), and with 4 estimated working per license, 2M jobs.
Challenges for small businesses. One buys 1950s cars from US, and repairs them, but cannot import so couple takes empty suitcases to Miami twice a week and brings back spare parts as personal effects. 13 employees, and ROI is 18 months. Tax rate jumps with 6th employee and with 11th employee. So tax hurts job creation but is intended to prevent accumulation of wealth. Three family members have a license for one part of business, to avoid paying higher taxes. Sunday job driving tourists paid double the weekday job as a mechanical engineer.
Cuban economy has dysfunctions even without US economic sanctions, owing to Cuban government.
Factors for change
Raoul Castro young at 86 years old, but announced in second inauguration would step down Feb. 2018 (though not as First Sec of the CP). Raoul is planning for succession but Politburo of 17 members, 8 born before 1945, 9 younger but 4 are newly added and inexperienced. Bad planning.
Another factor for change is Cuban national elections which used to be one candidate one seat. Now grouping candidates and seats into collective districts so that each voter gets 3 choices (blank, annul, or selectively vote for one winner without another). So, does give CP an indication of candidates who are more or less popular. Straight ticket is recommended but voters can avoid it.
In the last general election 1.8 M voters voted nonconforming, 1/5 of Cubans. Cuban government has been considering reforming voting, but so far has not done so. Reason for differences in voting seems to be Key's "friends and neighbors politics" – local candidates got higher totals than national candidates of politburo.
Every five years have CP congress; one motion was to change official slogan "Sovereign, Independent, Socialist, Prosperous and Sustainable." Motion was to insert "democratic" – failed -- but Raoul announced new slogan by decree(!).


Question time


No state banks giving ordinary citizens a mortgage, so depend on remittances of tens of thousands a month, few authorized to transact so quasi illegal market developing as Cuban front person buying a property for investment by a Miami resident. Problem is risk of drug money laundering.
Why trade embargo not draconian? Very comprehensive but has fewer US staff monitoring sanctions than with Iran. Ongoing impact remains important but I think not as much as other factors mentioned. Main impact is now at margins – things Cuban government would be undertaking it cannot – paying much more for shipping and insurance. Even though any one of us under Obama and Trump could use a credit card – but cannot in practice because banks fear regulatory burden of Cuban transactions.
Trump has reauthorized agricultural exports, tourism reaffirmed under Trump.
If sanctions were lifted, would Cuban economy get moving again, would help economy but not as much.
Are Cuban security forces reliable? Proud of professionalism. Crossed Atlantic for 2 wars in Angola and one in Ethiopia, during Cold war – unlike USSR and USA in failed wars. But equipment is obsolete. One idea is US to give fast patrol boats to chase drug smugglers. When Raoul was minister of armed forces, in cold war with 11.2 M pop, sustained bigger percent in war than US did in VN war. Since early 1990s, only one big riot in Cuba. Regime very successful in preventing riots and the big one in 1999 was put down by Interior troops only. Armed forces very loyal and professional, accustomed to civilian control (though many ministers ex forces. Would these forces respect a new civilian authority if it happened – hard to know.
Would we expect a shrinking economy with a shrinking population? Highly educated workforce could help this but incentive system is not there, even talented people do not work hard.
State permits FDI only when it sets salaries.
Obesity rate in Cuba? Don't know but at beginning of 1990s after collapse of Soviets, there were severe cases of malnutrition. Impression is Cuba is below median by Latin standards of obesity. Briefed McNamara for the Cuban missile crisis reunion conference (exhausting) and car drove really well but roads were bumpy, infrastructure lacking.





---
Tuesday 23 January 2018: Ambassador Jack Matlock, PhD, "Russia, Then and Now"


Currently Ambassador in Residence at Troy University, Matlock is a former Ambassador to Czechoslovakia and the USSR, and former Director for European and Soviet Affairs on the National Security Council.
Amb. Matlock gave a lively presentation answering several questions concerning Russian involvement in the 2016 US Presidential Election. He explained that, while the Russians may have been in support of the Trump campaign, any tampering with election results was minimal. Additionally, Amb. Matlock provided insight on the distinction between the end of the Cold War and the fall of the Soviet Union. He explained that the two events were independent of each other and, historically, are separated by approximately two years. He closed the presentation by expounding on the United States' favorable approval rating in Russia, as opposed to other countries, and the reason for the approval rating. Amb. Matlock's presentation was stimulating and diminished several assumptions about the Soviet Union and Russia. - Justala Simpson, Huntingdon College
---
Tuesday 13 February 2018: Professor Gabriel Aguilera, "Venezuela Present and Past: The Rise and Decline of Chavismo."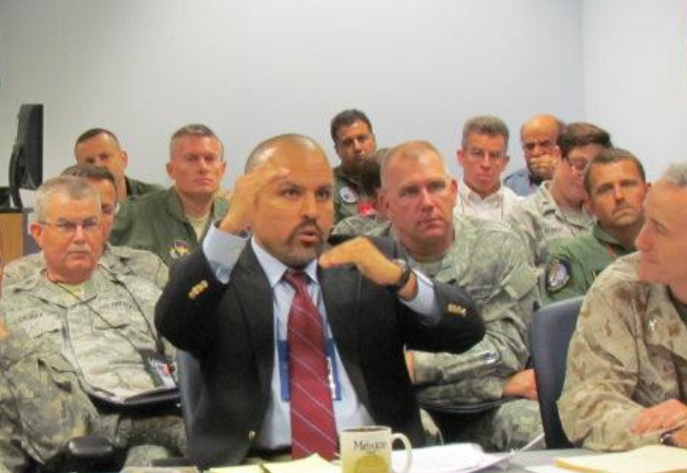 Professor Aguilera is Associate Professor of Security Studies, Air War College, and a specialist in Latin American Politics, Comparative Politics and International Political Economy. He will assess the implications of recent events in Venezuela.
Gabriel Aguilera joined the Air War College faculty in July 2011 where he directs the Core Course, United States National Security and Decision Making. He teaches and lectures on global security, international political economy, and Latin American studies. He serves on the college's Curriculum Integration Team that supervises all core courses taught at the Air War College and directs military instructor development in his department.
Dr. Aguilera's research and publications have explored democratization, the politics of banking regulation, and financial crises in Latin America. He has published research and essays in scholarly journals and magazines, including Comparative Politics as well as edited volumes. Currently, he is editing his manuscript, The Politics of Banking Crises in Latin America During the 1990s. His new research studies how democratization is affecting civilian control of Mexico's armed forces.
He has been a full-time Assistant Professor at the Autonomous Technological Institute of Mexico (ITAM) in Mexico City and California State University, Chico where he directed the International Relations Program. He has also been a Visiting Scholar at ITAM and the Claremont Graduate School as well as Adjunct Professor at Scripps College, Occidental College, and Chapman University.
Dr. Aguilera received his Ph.D. and Master degrees in Political Science from Harvard University, Master's degree in International Affairs from the University of California at San Diego's School of Global Policy and Strategy, and Bachelor's in Political Science from Stanford University.
Lecture

Summary
In a lively presentation, Dr. Aguilera led us from the arrival of democracy in Venezuela in with the Pact of Punto Fijo in 1958, via the Caldera regime to the rise of populism under Chavez and Maduro. He sketched out the economic resources (often squandered) and the differences among the regimes. Maduro has faced greater economic problems with fewer resources to maintain political support than did Chavez. Venezuela, unlike much of Latin America, gained democracy early but has seen it deteriorate into recent chaos.

Introduction
First visit to Ecuador in years; voters there pushed back against authoritarianism and Correa's regime has changed.
Last visit to Venezuela was in 2000, researching banking and politics.
In Caracas, Chavez has just arrived in politics and culture was open and democratic.
Previously in Mexico where authoritarian culture was just giving way to democracy – it took longer to open up to a researcher.
Venezuela more frank about party politics. Now that open culture has been thoroughly destroyed by Maduro and allies.
Success of Venezuelan democracy since 1958, Pact of Punto Fijo.
1980s Latin America had military and economic crises but now is the reverse, democracy has spread.
Venezuela was always marching in reverse, a democracy since 1950s with well-organized political parties, largely built on oil.

[The economy. ]

Please note, for clarity, the following notes have been reorganized slightly into more chronological order.
Region still moves with ups and down of international trade, natural resource dependent. Oil: Venezuela has a large ¼ share of OPEC's 80% share of oil reserves, 300 bbl.
Venezuela was one of founders of OPEC
Mismanagement of these natural resources is a perpetual theme.
Oil is not the whole story.
Has great coffee culture in mountains.
Attempted to build native industries for import substitution. However, unlike Brazil, its domestic market was too small to develop industrial institutions.
Great economic crisis comes late to Venezuelan story, 1989 government attempted stabilization to correct excesses of 1980s (delayed because of oil money).
1992 Pres. Perez is impeached and Chavez attempts military coup that fails.
Pres. Rafael Caldera won power by abandoning party system that he had founded CDs in 1958 – he understood which way the winds were blowing. He tapped enormous discontent among citizens, frustrated by political parties and formed "cockroach" coalition of parties, dismisses all charges on Chavez and released him.
He did not believe Chavez had a chance of becoming Pres. – widely underestimated.
See How Democracies Die – recent book recommended.
Economic adjustment under Perez and under Caldera, then banking crisis in 1993-94 disruptive; then Tequila crisis.
Weak state institutions unable to check corruption. Venezuelan democracy was under stress for a long period. Had little to show for oil wealth.
Caldera and then Chavez understood need to use that discontent to obtain power. [Slides skipped here]
1990s Dem decay
[Slide] Map of Democracy index from Economist Intelligence Unit, shows Uruguay has flawed democracy but Venezuela and Cuba are ranked as authoritarian.

Rise of Chavismo

2002 rise of Chavez came during era of Latin American democracy, two years before coup.
Annual GDP change fell 1998-2993 (during his reduction of democratic institutions), rose 2005-08 but fell 2014-. IMF figures via Bloomberg.
Big businesses tried to remove Chavez in his first few years but failed because he had popular support 2002.
There was electoral competition 2005-2012 approx.
Chavez did not bring a wrecking ball, but acted as a sniper or fruit picker neutralizing veto players one by one.
US was not sure whether Chavez was a Cuban style authoritarian or a genuine reformer?
Chavez extremely shrewd and pragmatic, pre 2002 was not doing populist actions until coup set off a wave of strikes among oil workers and managers. Then Chavez weeded out potential enemies.
He began to use oil resources as nation's checkbook. Real possibility 1993-94 of being overthrown so Chavez opened spigot and used oil resources for clientelism, nationalized industry and diminished state institutions that act as checks on his power.

Maduro and populism of Chavez.

Anti-institutional language, speaks of enemies of the people, class-based – with veneer of democracy, against old order.
Relies on a network of international ties; Maduro was a foreign minister who neutralized big actors who might have moved against him. So, international dimension.
Relentless effort to concentrate power in himself and his cronies.
Rise of Maduro
Maduro has to deal with economic decline since he took office, 10-20% per year.
Corruption and mismanagement
Now socialist party is entrenching itself.
Venezuelan oil production is now falling per Bloomberg News, production capacity falling and Maduro regime has fewer resources. Has to pick who gets rewarded.
US historically seen as only interested in resources, not about helping the people develop – much as US sees China today.
[Slide of recent headlines] Hyperinflation, bad debt position, oil collapsing, children hungry and some taken to orphanages.
Regime looking to aid from China and Russia, bond default is approaching.
Remains of democracy died in 2017.
Question Time
Protests in Caracas, shambles, what's next? Military coup or an invasion? Do not underestimate the ability of broken states to potter along and damage their societies. Marco Rubio has tweeted loosely encouraging a coup – but Chavez coopted military with economic interest. Cocaine flow from Colombia by land, air and sea across Venezuela, so military actors may have skin in that game. Not just US but also other neighbors failed to intervene. Colombia was negotiating a peace treaty with FARC at the time, so quite honest about not wanting to intervene in Venezuela.
Emigration problem from Venezuela – what is effect of that? Security in 2000 was already really bad and has now become a war zone in cities with many homicides, not a good place for families; many have fled to Colombia and Ecuador. Buenos Aires and Santiago have had problems lately, also – not limited to Caracas. Migration to Latin America and US via Mexico is likely to continue. Venezuela used to have a well-educated population in 1950s, suitable for democracy. Prior to 1950s, culture was historically based on military strongmen and authoritarian regimes.
Have we overcome Yanqui imperialist image of years gone by? Has declined a little and young people are susceptible to American soft power, having grown up in democratic culture across Latin America.
---


Tuesday 13 March 2018: no program


---


Wednesday, April 11, 2018: General Michael Hayden, USAF (ret), "Global Security"

The only man to have been head of both the CIA and the NSA, Gen Hayden returns to Montgomery and Maxwell. A frequent commentator on television news and the author of the acclaimed book Playing to the Edge: American Intelligence in the Age of Terror, he will discuss global security.


Grant Hammond, Introduction to speaker
41 years in USAF, head of Intelligence, NSA '99-2005, Deputy Director of Intelligence, and CIA. Book, Playing to the Edge, 2016.
Contributor to CNN, NBC and Fox News, Colbert and Bill Maher. Warfare and national security changed through 9/11 and cyberwarfare. DOD information technology is attacked 400K times per hour. Fortunate to have had him in charge.
Prepared remarks
Will suggest a lens or a way of thinking about the tsunami of info.
I. 2017 year of disruption
II. 2018 year of consequences
III. And then where are we?
I. 2017 year of disruption

More dangerous times before Cuba 1962, was a Captain during DefCon3 alert amid 1973 war, which deterred Russians from shipping weapons to Egypt through Bosphorus. But never more complicated than now. Too many events and threats to describe today. We are actually affected by distant events and we see them on CNN. In this administration we have seen significant changes Ripped up TPP which was not just economic -- but a painfully negotiated strategic agreement with nations other than China. Walked out from Paris climate agreement and others. Joint Comprehensive plan of action with Iran (Hayden was a critic then, believed US could have secured a harder bargain) but President will likely rip it up. Moving embassy to Jerusalem. President poked at Article 5 of NATO. Tariffs, now being threatened, have not been our style for 75 years.

II. 2018 Year of consequences, 5 points, arranged from short fuse to longer
1. Kim family of N Korea
Within our current definition of acceptable risk, we should assume NK will be able to reach USA with own missile and own warhead, in theory. Maybe we need to change our definition of acceptable risk. T has amped up the pressure unartfully at times on NK. Diplomatic, economic sanctions, leaning on Chinese. Not sure we can affect where it is going. Kim is not irrational, but coldly calculating his path to survival. Like a double bill movie of Saddam and Ghadaffi – and Ukraine gave up nukes to Russia for territorial guarantees in perpetuity. He would have to be crazy to give up his weapons. Really difficult question. T has pushed process forward, but likely meeting will be only a photo op at first. Both sides using word de-nuclearization and have recently mentioned the meeting directly. DCI Pompeo is preparing to meet. Possibly Mongolia. For NK means end to US nuclear guarantee over SK, and two other conditions. Some situations cannot be solved. More dangerous to rid NK of nukes than to deal with them. Can limit them, observe them, slow testing program, prevent proliferation – but will have to keep defend and deter.

2. Iran
Obama and Kerry should have driven harder bargain, and there was bait and switch. US Intelligence community finds Iran is further from nuclear weapons with the deal and process is more open. Iran in 3 baskets: nuclear program now; in ten years; and all other stuff (Iraq, Syria, Yemen, Lebanon). Iran is dominant power in 4 sunni capitals. But wrong solution is to rip up nuclear deal. That would be hitting them with the carrot instead of using the stick on other areas. T may use rhetoric but 3 times he has recertified the deal. Old cabinet (moving target) only Pompeo agreed with aggressive approach of T – but new faces now. Iran deal included EU and would be turning our backs on all of them.

3. Terrorism
Has lowered throughout Obama's admin and we ripped up ISIS pretty well. We are now not in a bad place. Last attack in NY was a truck on a bicycle path, killed 8 people – suggested limits, lone wolf attacks. Showed also our limits in stopping that kind of attack. Having been in charge of surveillance and CT for years, there is nothing more we need in terms of authorities to press the attack. Military leaders did not publicly echo T's remark about pulling out of Syria (to a construction worker, off the cuff). Obama had given more authority in field, good.

USAF doctrine: (1) deployment phase, then (2) shaping, then (3) force-on-force phase ("war"); phase (4) is stabilization phase. If you don't do 4, you repeat phases 1-3.

4. Russians
Not a resurgent but a revanchist power. They do not have the necessities of power (only oil, fish eggs and dolls). Declining population and little immigration. When Putin was president first time, deal was he would be autocratic and population would be rich. In his second term, population would be proud (oil was down to $53 /barrel. So he needs to seen as restoring Russian lands and grievances. Cases: Ukraine, Crimea, and flying too close to aircraft. He only has two sevens and we have not called his bluff. Using a chemical weapon in a British village is off the chart. Rn economy is only 2/3 size of California. He knows he has limits but must push because time is against him. Putin is like the man at the small table who saws the legs shorter on the big players table in the hope he can join without seeming out of place. Meddling and muddling with American electoral process.

5. Chinese
Not an enemy of the US. Logical non-heroic choices to both sides to keep relations competitive but not in conflict. China has inverted pyramid of ageing population. Environmental catastrophe – and party legitimacy is based on economic success which is tapering off as base has reached medium level. Party trying to legitimate itself by building sand castles in South China sea. China is resurgent power but sees itself as restoring empire lost in last century. What should Graham T. Allison has 17 examples of resurgent powers meeting status quo powers. We always manage to go from old equilibrium – but we always go through global war. Sino-American relationship is the most important one today. Chinese have been more aggressive.

III. What should we do about this?
Republican annual retreat 2016 to develop common positions – Bob Kagan sees the melting down of the post ww2 peaceful arrangement Bretton Woods, World Bank, International Monetary Fund. Erosion of the utility, relevance of structure we created.

The debate of the Trump administration is where are we.
Walter Russell Meade: US Presidents are of these types in foreign policy

Hamiltonian (US must be strong and prosperous to be free - Romney).
Wilsonian (bottling US manifest destiny and exporting) Jeffersonian (inward turning, except for N Africa and LA purchase)
Jacksonian (Fox news, "You talking to me?")
Textbooks of post WW2 are all entitled variations on "ideals and self-interest" (Hamiltonian and Wilsonian).
Obama was Jeffersonian in second term, nation building at home.



Trump is most Jacksonian since Jackson, whose picture he hung. Walking away after the fall of the Berlin wall; now back in power. Jacksonians fight the nation's wars – until they get involved in two high casualty wars and find it too much. Trump tapped into this I 2016 campaign. He gets his strength from a channel of US history.
Question Time
Reagan? Internationalist, balance of idealism and realism. Shining city on a hill was embracing world.

Salisbury attack by Putin? Expelling diplomats showed unified response in NATO, like old times.

Best negotiator in world N Koreans? Kim is 33 years old, not with higher education, so not sophisticated in interpreting US President – so ramping up language not helpful. Not sure that T read the psychological profile of Kim. One of NK endpoints is to achieve direct equal relations – we have restricted them to multiway talks in previous 4 runs. Conceded to him one of his end goals in agreeing to this meeting, a major concession. Only OK if we get a deal.

Last missile strike in Syria produced Russian threat to respond; risk this time? Likely but should not constrain Presidential action because global opinion is on this side on this issue, good one to fight on. Best to use indirect fire, not lose airmen; besides US, only British have TLAM capability [Tomahawk Land Attack Missile] and may not have ship in Med. Should hit the helicopter base of the the barrel bomb dropping units [who hit civilian areas repeatedly], and hit Syrian AF HQ because they have blood on their hands.

Homeland security sufficient against Terrorism? We are a tough target, have put a lot of money into this, and cannot really do more without impinging on commerce and liberty. [Soccer analogy]: Pre-9/11 we were all in our penalty box; post 9/11 we moved to full field, with Special Forces scoring goals and Intelligence controlling midfield. I do not think another 9/11 attack is likely with multiple actors, complex against symbolic target with mass casualties. Airline fluid bomb plot (multiple airliners with [explosive fluids in] sports bottles) we owned and only issue was when Brits would arrest plotters after learning from them. Safer because we are good at this and we have money; geography protected by oceans; welcoming society handling immigrants. We have radicalized individuals, true, but not whole communities like the Europeans.

Global climate change? Would be #6 threat, though not during W.Bush administration. They were interested in oil pipelines on maps; successor Panetta founded climate change center in CIA for Obama. I do worry about ice packs going away. But mass migration, water shortages, historic drought in Iran. Egypt also. Ethanol from crops forced up price of staples in Egypt, contributed to Arab spring.

Conclusions
Advised successor as DCI, Gen. Petraeus, that CIA looked more like old OSS than ever, but it is not, and you must remind yourself of broader global responsibilities.
Russians invaded Georgia, got phone call from Steve Hadley – Misha Shakashvilli – are the Russian going to Tblisi? Had to bring up Georgia specialists and needed to detect Russian radios in Georgia – could not establish FEBA [Forward Edge of Battle Area]. Without SIGINT (mostly deployed in Afghanistan), had to order HUMINT [observers] to drive till they found Russian tanks and 'called home'.

---


Tuesday, May 8, 2018: Air War College Professors, Regional Reports

The last program each year is a report from professors at the Air War College on visits to different areas of the world as part of the Regional and Cultural Studies portion of the curriculum. Three professors will report on their findings from their travel in March and entertain your questions.
Dave Sorenson (Middle East), Dawn Murphy (Japan, Republic of China, and Republic of Korea) and Amit Gupta (South Asia)

Dr. David S. Sorenson - Chair, Department of International Security Studies (biography from AWC)
Dr. Sorenson, Professor of International Security Studies, received his Ph.D. from the Graduate School of International Studies at the University of Denver, and his BA and MA from California State University at Long Beach. He previously served on the faculties of the University of Colorado at Denver, Denison University, and the Mershon Center at Ohio State University. He has published Syria in Ruins: The Dynamics of the Syrian Civil War (Santa Barbara, CA: Praeger Publishers, 2016; Lebanon: Global Security Watch. Westport, CT: Praeger Publishers (2010), Interpreting the Modern Middle East, (edited), (Westview Press, 2010), The Process and Politics of Defense Acquisition: A Reference Book (Praeger Publishers, 2008), An Introduction to the Modern Middle East (Westview Press, 2nd Edition 2013), Military Base Closure: A Reference Book (Praeger Publishers, 2007), Shutting Down the Cold War: The Politics of Military Base Closure (St. Martin's Press, 1998), and The Politics of Strategic Aircraft Modernization, (Praeger, 1995). He has also co-edited The Politics of International Aircraft Collaboration (London: Ashgate Publishers, 2000), and The Politics of Peacekeeping (Frank Cass Publishers, 2005), and numerous articles and book chapters on Middle East politics, defense budget politics, and national security affairs. Professor Sorenson was AWC Associate Dean for Academic Programs (2000-2003).

Dr. Amit Gupta - Department of International Security Studies (biography from AWC)
Dr. Amit Gupta works on international security issues, the politics of globalization, Indian and Australian politics, popular culture, media and politics. [He is also the author or editor of several books, including Global Security Watch: India and Strategic Stability in Asia.]

Dr. Dawn Murphy - Department of International Security Studies (biography from AWC)

Dr. Dawn Murphy, Assistant Professor of International Security Studies, joined the Air War College faculty in 2015. She specializes in Chinese foreign policy and domestic politics, international relations, and comparative politics. Her current research analyzes China's interests, identity and behavior as a rising global power towards the existing international order. Specifically, she examines China's relations with the Middle East and Sub-Saharan Africa and is writing a book titled Rising Revisionist? China's Evolving Relations with the Middle East and Sub-Saharan Africa in the post-Cold War Era. The book project is based on field work conducted as a Visiting Scholar with the Chinese Academy of Social Sciences in Beijing, China; a Visiting Research Fellow with the American University in Cairo, Egypt; and a Visiting Researcher at Stellenbosch University's Centre for Chinese Studies in South Africa. Murphy holds a B.S. in Industrial and Labor Relations from Cornell University, Master of International Affairs from Columbia University's School of International and Public Affairs, and Ph.D. in Political Science from George Washington University. Her previous academic appointments include Postdoctoral Research Fellow with the Princeton-Harvard China and the World Program at Princeton University and Visiting Assistant Professor of Political Science at George Washington University.

Introduction
President Hammond announced he was retiring (again) in December. [Chorus of boos and calls for him to stay]
Conversino, thanks to Grant (applause); and introduction: Three members of the Department of International security studies. Sorensen has written extensively on the Base Realignment and Closing issue and the Middle East. Dawn Murphy has lived and worked in the PRC, researching China's foreign policy in the Middle East. This tour was to Northeast Asia. Dr. Amit Gupta, researches the impact of globalization.

Dave Sorenson: Morocco, Turkey and Egypt

Democratization, civil-military relations and [economics?].
Morocco, Turkey and Egypt, all Muslim but all different.
Morocco semi-democracy with parliament under King.
Monarchies work in the Middle East, though without money, Morocco needs political skill.
Egypt recently won 97% of vote and other three were arrested. Military autocracy, and parliament does not really work.
Turkey now like DPRK (North Korea), President has arrested 150,000 officials including military.
Civil military relations,
Morocco has thoroughly professional F16 military with own maintenance.
Egypt: military makes washing machines, garbage bags and a large proportion of economy.
Turkey: competent officers are in prison or fired; losing battles with others in Syria. Loyal military is less competent.
Economy: Morocco doing well making inexpensive European cars for Europe, high speed rail, infrastructure, doing things they should be.
Egyptian and Turkey economy have problems of totalitarian state, more unnecessary bridges, tunnel and airports but running up debt. Egypt likewise, megaprojects rather than productive investments.
Arab-Israeli conflict has now gone away – why so little reaction to US moving to Jerusalem. Saudi has now cut the support for the Palestinians.
New conflict is Shia-Sunni. Both Saudi and Israel are lobbying effectively in Washington. Hezbollah did well in this week's elections in Lebanon.

Dawn Murphy: Japan, Korea and Taiwan

Japan: role of military in Japan's defense is being discussed now. Confidence in US alliance and J does not have many partners in region. Concerns are rise of China, island disputes and NK's nuclear weapons development.
ROK (South Korea) transition from Park (impeached) to Moon (more receptive to NK relations and less to Japan). Security for ROK less so about DPRK (North Korea) but growing is fear of DPRK response to US action.
Before tour there had been 6 nuclear tests, and expected above ground tests and a normal trajectory missile. NK 2006-17 range of missile and nuclear tests.
Recent changes: New Year's address by Kim called for participation in SK Olympics and increased interaction with rest of world. Olympics a victory for NK diplomacy. South Korea engaged in discussions with NK and informed US of possible US-NK meetings. Kim and Moon have met for first time in SK.
Denuclearization offered but includes removal of US troops and end of US nuclear umbrella for SK. US seems to have abandoned CNBV (complete nuclear ban and verification). May end up with redefinition or with brink of war – hard to tell.
Taiwan increased tension with PRC over flight paths of civil aircraft, especially during Chinese New Year. China still inviting businesses to trade but worries and Taiwan worried about long term Chinese democracy.
US concerned China is revisionist power. Trump promised actions against China, paused while wanting Chinese pressure on NK.

Amit Gupta: South Asia:
What is the big picture for US [to 2050] and how does [military?] fit in?
3 problems: (US budget, demographics, [attitudes to military?])
15-20 years of money deficit
Again, 58% of AL children in 2010 were on Medicaid. (We do have socialized medicine). 64% of Wisconsin cheese head kids 2016 on Medicaid.)
Either taxes must be raised or US will be unable to pay for future wars.
Millennials 60% said under no circumstances would fight for US. 20% only under some circumstances.
Alliance deficit: allies all have aging populations, Japan losing 20% of pop by 2050. Germans 51% elderly. Swedes at height of cold war had 800K troops and reserves – now only 14K troops and 25K reserves.
India 1.3 Bn population, democratic and secular, professional military, fights in deserts and mountains, land warfare with Air Force as artillery. Australians loved Iraq war and only lost one to vehicle collision and one other to accidental weapons discharge. Even a few casualties of war might cause a withdrawal. India concerned rise of China. Can work with Vietnamese, Indians and ___.
Question Time
India cooperation with US? Types are military-military; government-government not so good; and society: students to US universities; Bangalore and Silicon Valley; Indian diaspora; Hollywood-Bollywood. (Latest Avengers film raised more abroad than at home even in first weeks.)

Effect of dropping US treaties and agreements recently? Agreements are government-government and upheld regardless of administrations and parties, e.g. SALT agreements. When an administration breaks an agreement without due cause, problematic.
Trump abrogated Iran agreement with NATO allies without any new, scientific counter-evidence. Causes credibility issue for US.
TPP (Trans Pacific Partnership) faced domestic opposition on trade, but always more than economics; other countries are not interested in changing provisions. Security provisions are important.
Maximalist request now from US to China may not find common ground, talks may fall apart, or US may only gain minor concessions.
JFK made agreement not to invade Cuba, and that was upheld by subsequent Presidents of both parties.
Chinese have a regional trade program that does not fuss about human rights provisions.

India-Pakistan relations, and impact of extraneous factors such as China, Bangladesh?
Deterrence nuclear, conventional and unconventional, China has all three. India-Pakistan both have nuclear deterrence; Pakistan lacks conventional (faces stronger Indian army); but India lacks unconventional deterrence against militant groups. Important response to terrorism is returning to normal business next day. India needs to invite US businesses into their markets and become too big to attack. Shanghai regional relationship organization.

Future of Japan with aging but offset by robotics?
Japan needs more educated women participating in workforce. [Has some other means of offsetting aging costs.]

Social interaction rather than military interaction driving relations in future?
Korea's historical legacy of being colonized by Japan and so does China. But strong bilateral US relations with Northeast Asia. Chinese-American relationship is a competition for soft power; China has a repressive society so weakens soft power.
Advertiser rankings have US 1 and Germany [high]; only non-western country is Japan on list.
US has 20/30 top universities in world. 146/500 top universities are US. Immigrants leading top US high-tech companies: Sudha Pichai, CEO of Google; Satia Nadella of MS; Elon Musk from SA; Sergei Brin Russian; Frenchman in EBay; many immigrants in Silicon Valley.
Until Chinese have open society with immigrants, will not be able to compete.
Morocco and Tunisian leaders did learn administration from the French.
Morocco and Tunisia also aimed at modernity rather than Arab identity.
But Algeria next door the French fought brutally to hang on to Metro France, did not do it so well.

Egypt and Turkey both losing their conflicts? Prospects?
Egyptian conflict is in Sinai, has been ignored too long and poverty too high; Egyptian military lacks professionalism except among armored. Ground and AF are not so professional – have inflicted more casualties on own than on enemy. Poor maintenance on F16s, only 30% can fly. Maintenance crew could not read English manuals. Officers have good clubs but poor professionalism.
In Turkey, best officers arrested for fear of Gulen influence. Officers often not even with troops in combat – and US has been equipping Peshmerga and Iraqi resistance, effective forces.

---
Special Programs and other Activities

Spring 2018, Great Decisions Program

Register at ALWAC.org for this seminar series, featuring excellent readings and lively, local speakers. Topics and study booklets (with expert articles, maps and photos) are produced by the Foreign Policy Association and published the first week in January. The program begins in mid-January and runs for 8 consecutive weeks. This year, we offer them at the most popular time (Tuesdays, 2 pm) to assist more people to participate. Location is 106 Bartlett Hall, behind our usual Whitley building at 231 Montgomery St.
Great Decisions 2018 sessions, with dates: issue numbers, "topics" and speakers
January 16: Issue 1, "The Waning of Pax Americana," Grant Hammond, PhD, CSAT
January 23: Issue 2, "Russia's Foreign Policy," Mark Conversino, PhD, SAASS
January 30: Issue 3, "China and America: The New Geopolitical Equation," Buck Grinter, AWC Retd.
February 6: Issue 7, "South Africa's Fragile Democracy," Steve Burgess, PhD, AWC
February 13: Issue 5, "Turkey: A Partner in Crisis," Dave Sorenson, PhD, AWC
February 20: Issue 8, "Global Health: Progress and Challenges," Col. Paul Nelson, MD, AWC
February 27: Issue 4, "Media and Foreign Policy," Jeremy Lewis, PhD, Huntingdon
March 6: Issue 6, "US Global Engagement and the Military," Grant Hammond, PhD, CSAT


Collaboration with Global Ties Alabama,

an educational, charitable institution based in Huntsville which assists the U. S. Department of State in arranging and hosting participants in the Fulbright Scholars exchange and visitors program and placing visiting groups of scholars and students with those in the local area for dinners or brief home stays as they visit the Capitol, historic sites in the Montgomery area, the Southern Poverty Law Center, the Alabama Shakespeare Festival and local universities.

Interaction with some of the International Officers stationed at Maxwell AFB for a year and their families

Members are also invited to:
Matthew West, Doctors Without Borders, "South Sudan and Syria,"
Montgomery, 6:30 pm, 18 April, at Gayle Planetarium, 1010 Forest Avenue.

Part of a traveling series of events called "On the Road" which is a 45-minute presentation by a senior fieldworker followed by Q and A and a reception. The speaker is Matthew West, Deputy Head of Mission who has worked with Doctors Without Borders for seven years, and his talk is about his experiences working in places including South Sudan and Syria.
It is a free event and not a fundraiser, open to the public.
Doctors without Borders would be delighted if AWAC members could attend.
Here is the Eventbrite page if you would like to register.


Revised 5/7/18 by Jeremy Lewis